XV° EDIZIONE (Circuito Italy & Sicily dal 21 Luglio al 10 Agosto 2017 • Tappe Promo da Marzo a Dicembre 2017)
Benvenuti nel sito del più grande Wine Music Festival del Mondo!
Un grande percorso emozionale alla scoperta della Sicilia e dell'Italia intera, fatto di grande Blues, Soul e Rhythm'n'Blues live, di splendide locations e dei migliori e più inebrianti sapori delle più prestigiose Aziende del Vino e del Food d'eccellenza.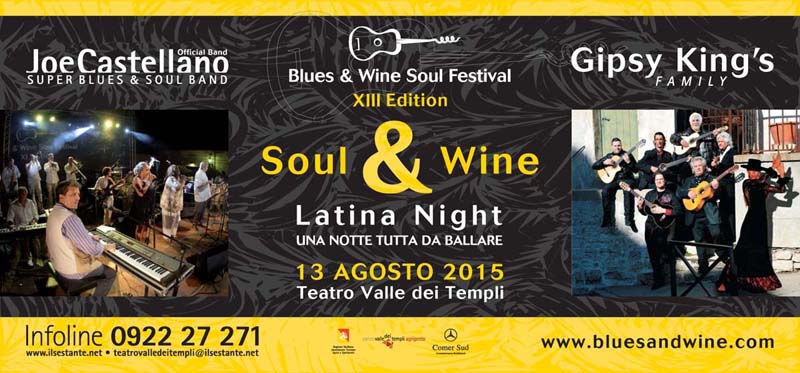 Uno dei più celebrati Festival, all'interno del panorama dei più bei Festival italiani da Nord a Sud che, nelle calde sere d'estate, coinvolge il proprio pubblico in maniera itinerante, sviluppando un percorso turistico ed enogastronomico, di cui diventano testimonials i più grandi nomi della Musica mondiale.
Accanto alla Official Band dell'evento, infatti, ossia la grande e rinomata Joe Castellano Super Blues & Soul Band, decine di altri famosi artisti e formazioni di fama mondiale, che guidano il pubblico in maniera entusiasmante, da una città all'altra della Sicilia e dello Stivale Italiano.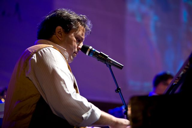 Il Blues ed il Vino… passioni e culture che nascono dalla Terra e che evolvendosi diventano due grandi linguaggi internazionali, così dirompenti nella loro forza, da fare parlare popoli di tutto il mondo, attraverso la condivisione di emozioni uniche ed irripetibili… Le serate del Blues & Wine Soul Festival…
Adesso aspettiamo anche Voi!
Joe Castellano
Presidente e Direttore Artistico
What's the Blues & Wine Soul Festival (English)
 Blues & Wine Soul Festival is the Biggest Wine - Music Event in the musical program by 15 years in all over the world !.. The event born in Sicily and throughout Italy for three years already since summer 2003. The only event capable of matching the phenomenal performance of the best blues, soul and gospel the exciting discovery of the best Italian wines and foods, but also of any territory. A true multi-sensory experience where the curtain goes up on hot summer nights now throughout Italy and that of the most picturesque locations on the world, the flavours and history will be open from 2007 to the most beautiful places in the "Bel Paese". From 10 years, in fact, even the great theaters of Rome, Milan, Naples, Florence, Trieste and of the most famous Italian tourism, have hosted the great nights of BLUES & WINE ! ! ! ...
All this, while from 2010 is leading throughout the world, the magical and tasty appointments of BLUES & WINE SOUL FESTIVAL, to make known through two major international languages such as WINE/FOOD and MUSIC, the best products in the whole of Italy.
Great concerts around the stage while the best Wineries and the Excellence of Food's Pharms of Italy presenting their products. Pouring non-stop, work-shop of flavours enthusiasts and professionals, will guide the audience of Blues & Wine Soul Festival to discover the wine, while the guitars vibrate around scratching hammond organ not only of the greatest artists of the international landscape of blues & soul but the true legends of world music.
This is the meaning of  Blues & Wine Soul Festival: great music, but also a great opportunity to learn about the surrounding area, accompanied by guides, exceptional, as the top Wines, top Foods and typical products.
So the Blues & Wine Soul Festival becomes a special travelling opportunity for fans around the world, both for those seeking pure relaxation and fun, both for those chasing the most important voices in world music and same is true for flavour's seekers as a place for people who love to discover the historical and cultural roots more ancient and authentic. Each of them in Blues & Wine Soul Festival finds its goal, the pleasant surprise of many other treasures which will enrich the experience however.
An event won in 2005 by FORMEZ and the Ministry of Culture in Italy, as one of the new ways of tourism and culture and enhance the resources of the territory.
 An event now known all over the world ... and now that the world is to propose a national and international circuits are travelled and even landed in the most renowned European locations, which aims to raise awareness of product and territory DELICIOUS ITALY, and involves in : Boards, Special Foods & Wines Distributors, Journalists and testimonials of the various continents, also through the special prize "Blues & Wine Awards," which has enjoyed so much success since its first edition in 2007.
A great chance of Show-Market and Promotion, therefore, also for all those entities as : Boards, Companies, Wineries / Food Industries, Territories, Partners - that of national and international CURCUIT of BLUES & WINE are about to do or they belong, and with it will be proposed to the entire audience its huge audience, always in search of exciting flavours and beautiful moments.
                                                                                President and Art Director
                                                                                      Dr. Joe Castellano
Tappe Blues & Wine Soul Festival 2017
Tappa Speciale Estero - London (Uk)
 Fine Giugno/Luglio  - work in progress

Tappa Apertura - Work in Progress
21 Luglio

Tappe Speciali B&W Lazio
26 e 27 Luglio - 4 e 5 Agosto
Altre Tappe del Summer Circuit Italy 2017
dal 22 Luglio al 10 Agosto - Work in progress

Pubblicate nei prossimi giorni date e località
ATTENZIONE!
Prevista grande partecipazione Aziende del Vino per il Blues & Wine Soul Festival 2017 - XV° Edizione - e per i connessi 11° Blues & Wine Awards !!!!! 
____________________________
Ritornerà la prossima estate 2017 il gemellaggio con la manifestazione "Libri da Gustare" tanto voluto negli anni scorsi da Joe Castellano e dalla cara Claudia Ferraresi (Signora del Barolo) . In alcune tappe pertanto saranno di scena le serate del 4° Festival del Giornalismo Enogastronomico promosso dal Blues & Wine, con ospiti grandi scrittori, giornalisti, chef e testimonial del mondo del Vino e del migliore Food . 
_______________________________________________
Si consoliderà nell'Edizione 2017 la Campagna "Per il FORMAGGIO VERO" in collaborazione con Slow Food Sicilia ... 
_____________________________________________________
Dopo 7 anni di grandissimi successi ed emozioni, non sarà più celebrata dal 2017 la Tappa di Castelbuono (Madonie) .
  La stessa sarà sostituita dalla splendida Tappa di PALERMO a Villa Chiaramonte Bordonaro e dalla Tappa Speciale di 2 giorni a CAPO D'ORLANDO (Me)  
________________________________________
Disponibile a questo indirizzo l'elenco dei vincitori dei Blues & Wine Awards 2014!

_______________________________________________________
Presentazione della XII Edizione 2014, lunedi 7 Aprile ore 17.30, presso la Sala Business del Padiglione Sicilia al Vinitaly (Verona).
_______________________________________________________
A giorni saranno rese note le Tappe e gli Speciali "Blues & Wine Galà" dell'edizione Summer Circuit Sicily 2014.
_______________________________________________________
Il Festival riproporrà a breve Tappe in tutta Italia
_______________________________________________________
Nella Band di Joe Castellano per la data di Marsala del 04 Agosto, previsti ben 9 special guests!!! con 3 tra i migliori sassofonisti del mondo… ossia BRANDON FIELDS (da Band B.B.King, George Benson, Quincy Jones, Luther Vandross, etc.), ED WYNNE (da Band Earth Wind & Fire di Al McKay, Doobie Brothers), ROBY EDWARDS (best young Blues talent for saxophone).
_______________________________________________________
3 grandi STAR della chitarra Blues nelle serate del Festival!
Sia nella Valle dei Templi che a Marsala, previste le esibizioni di JUNIOR WATSON (con la Band dei Red Wagons), di ERIC GUITAR DAVIS (con la Band di Luca Giordano) e di RUDY ROTTA (con la sua omonima Blues Band).
Gli stessi saranno tutti ospitati da Joe Castellano per un pirotecnico finale che li vedrà insieme, durante il concerto/tappa di Porto Empedocle del 1° Agosto.
_______________________________________________________
Audrey Madison Turner, ultima moglie di Ike Turner e che successe sul palco alla leggendaria Tina, tra i lead vocals di Joe Castellano Band.
_______________________________________________________
A giorni probabile l'aggiunta di altre 2 tappe del Festival del Circuito Sicilia, rispetto a quelle già presentate presso la sede RAI di Palermo lo scorso 8 Maggio.
_______________________________________________________
Si sta lavorando anche per le tappe Italia del Festival. Se volete candidare la Vostra città, scriveteci subito! ( Questo indirizzo email è protetto dagli spambots. E' necessario abilitare JavaScript per vederlo. )