Il  Progetto e le Mission della manifestazione (italiano) 

Una manifestazione ideata e creata dall'Associazione "Blues Promotion Association" per opera del suo Presidente e Direttore Artistico - Dott. Angelo "Joe" Castellano (ormai Band Leader e compositore di riconosciuta fama internazionale) - che in questi anni ha coniugato in maniera sublime, il mondo della grande Musica con quello della più prestigiosa enogastronomia siciliana.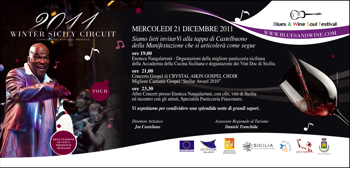 Un progetto partito nel 2003 da Agrigento e dalla sua Valle dei Templi e che in pochissimo tempo ha conquistato tutta la Sicilia e tutta Italia, svolgendo importantissime tappe nelle più grandi città e località turistiche Siciliane e di tutto lo Stivale Italiano.
Un evento che in pochissimo tempo ha conquistato tutto il mondo e che ha avuto l'attenzione di tutte le più grosse Autorità Italiane della Cultura.
Il Ministero del Turismo , unitamente al Ministero dei BB.CC. e ad altri altissimi Partner istituzionali, lo ha considerato tra i principali e più bei Festival italiani, accanto a realtà storiche come: Umbria Jazz,  Ravello Festival, Festival dei due mondi di Spoleto, "Ferrrara sotto le stelle" ed altri ancora, come riportato sul sito ufficiale dell'Italia – www.italia.it – e l'unico menzionato per la Sicilia.
Link :  http://www.italia.it/it/focus/litalia-dei-festival.html 
Cosi il Formez ed il Ministero dei Beni Culturali, nel 2005 premiavano il Blues & Wine Soul Festival, come uno dei nuovi maggiori eventi italiani che riusciva a coniugare al meglio tutti questi aspetti ed a promozionarsi presso tutte le maggiori Borse italiane del Turismo (v.BIT e TTG) e più prestigiose Fiere di settore (v. Vinitaly).
Il dott. Castellano, suo creatore e direttore artistico, era chiamato nel Novembre dello stesso anno, a conferenziare in Roma, alla presenza dei Dirigenti dei BB.CC. di tutta Italia, sulla "innovazione e creazione di eventi che valorizzano il bene culturale e ne amplificano la sua fruizione".
Un riconoscimento di altissima qualità, ad un evento che in appena due anni manifestava già appieno le proprie potenzialità e la grande comunicazione ad esso connessa.
Un modo nuovo di fare cultura e di promozionare il territorio in cui si opera, con eventi che si allargano all'intera Sicilia, all'Italia ed al Mondo, per mettere in campo grandissime sinergie culturali, turistiche, commerciali e di grande comunicazione.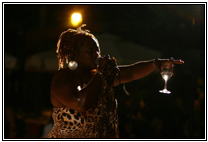 Ci piace ricordare che il Festival ha ospitato in questi primi 15 anni veri e propri miti della musica mondiale, che ogni giorno vengono ascoltati in tutte le radio del mondo (v. albo d'oro alla pagina TOP ARTISTS).
The Blues Brothers, Kool & The Gang, SOUL GENERAL'S di James Brown, EARTH WIND & FIRE Experience, Lenny Castro, Bashiri Johnson, Pee Wee Ellis, Gavin Christopher, Millie Jackson, Lucky Peterson,  Roy Roberts, Kid Creole & the Coconuts, Sarah Jane Morris, Sherman Robertson, Thornetta Davis, Harriett Lewis, Tony Coleman, Frank McComb e la Super Blues Band  del suo creatore e organizzatore, il sicilianissimo Joe Castellano, sono solo alcuni dei grandi nomi ospitati nelle edizioni dal 2003 al 2016.
_______________________________________________
The Project and Festival's mission  (English) 
Blues & Wine Soul Festival started from Sicily 15 years ago, with the target to bring in Europe every year, through an itinerant route, the best of the worldwide Blues & Soul Music. But the complete novelty of this show is that to link the great music to a world as rich in humours and suggestions: that one of the WINE.
     It could not exist more succeeded alliance, in an area as the Mediterranean is, having traditionally a vocation for the TOURISM and the OENOLOGICAL PRODUCTION. Sectors that have known an unprecedented growth in the last years, thanks to the operators and producers' engagement and the evolution of the consumers, becoming two of the most active voices of the international economy.
  On the musical front, the importance of the show is testified from the fact that notwithstanding only the first three editions took place, Blues & Wine Festival, results accredited as one of the most important musical appointments of this sector in Europe. The show, will be introduced in a conference in Rome, Milan, Verona (Vinitaly) and in the - Italian or foreign - site/s that it/they will want to secure this important appointment, with an evident strategic advantage in terms of visibility and prestige for the show, that will be as well associated to known and well-established events, of the international Tourist or Oeno-gastronomic Markets (see more in detail the communication plan).
   From many years, the interest of the biggest national television media, brings even more incisiveness to the project and great resonance to the tourist-economic aspect and the development of the products connected with the territory.
    FOUR IMPORTANT NEWS characterize the edition that we are going to propose.
1)     THE EXPORT of the BLUES & WINE SOUL FESTIVAL big show in 1 or 2 ITALIAN/FOREIGN STOP OVERS - as that the Organization is making in London -  creating like so a great vehicle of tourist attraction and promotion for the wineries and oeno-gastronomic firms on the territory;
2)     The realization of workshops, conferences, meetings with the wine-makers and journalists and conferences during the days of the show. A serious and targeted occasion for the Bodies and for the firms adherent to the event that, along with the great journalistic promotion which characterizes the show, and the guided tours in the wineries of the territory, becomes an important trading moment and of push to the agricultural and food compartment too;                        
3)     The involvement of famous international Wine/Food/Beverage Farms and an important restaurateurs delegations, for the oeno-gastronomic tourism's exploitation, as well as for the publicizing of the so many exceptional products that the home territory offers.
A hospitality offered to institutions and traders, for a profitable and concrete exchange that is going to be realized with international operators, to which the festival looks with more and more very special attention;
4)     The fourth grade important novelty, concerns the attempt to widen, from 2017, the Festival to the whole European Area with the involvement of the State of England, so strategic and historic Land and above all crossroad of notable tourist flows, favoured by the good Policy of the local Government Tourist Authority for the International Commerce and relationships .
  We are therefore working to this possible partnership, convinced of a joined promotion Italy – England, it would subsequently make of this event a quite visited worldwide appointment that is able to conjugate in the summertime: TOURISM, CULTURE and AGRICULTURAL AND FOOD COMPARTMENT PROMOTION. 
 The Blues & Wine Soul Festival represent also a so nice oportunity, against a general decrease of the tourism and it has been awarded in the June 2014 with the Special Prize "Traveller Choice" by Trip Advisor, who inserted the Sicily on the top 5 destinations in Europe for the "Oeno – Gastronomic Tourism" .
 In these last Junuary's 2017 days, the famous Magazine "Wine Enthusiast" of USA, selected Sicily as one of the first 10 best destinations in the world for the Oenologic Tourism … ! A great sense of this choice, probabily, comes from that the Blues & Wine Soul Festival operated from 15 years …. ! 
The most Famous Artists and Band of these first 15 years : 
 The BLUES BROTHERS
 KOOL & THE GANG
 EARTH WIND & FIRE Experience by Al McKay
 SOUL GENERAL'S – Original James Brown Band
 EDDIE FLOYD
 KID CREOLE & THE COCONUTS
 GIPSY KINGS
 LUCKY PETERSON 
 MILLIE & KEISHA JACKSON
 KEITH B. BROWN
 SARAH JANE MORRIS
 DOROTHY MOORE
 ROY ROBERTS
 CHRIS CAIN
 SHERMAN ROBERTSON
 FORD BLUES BAND
 TONY COLEMAN
 SHARRIE WILLIAMS                      
 THORNETTA DAVIS 
 SONNY RODHES 
 BRIAN TEMPLETON
 BONEY FIELDS
 SHARON LEWIS
 SAX GORDON BEADLE
 LONDON COMMUNITY GOSPEL CHOIR
 GOSPEL PROJECT CHOIR
 WINCE VALLICELLI
 CHARLES WALKER
 SUGAR BLUE
 HOWARD TATE
 SIMONE DE MOORE
 FRANK Mc COMB
 the Official Band Festival :
 Dr.JOE CASTELLANO Super Blues & Soul Band
 and his special guests :
 HARRIET LEWIS
 REV.LEE BROWN
 GORDON METZ
 WALDO WEATHERS
 CHARLES WALKER
 LENNY CASTRO
 BONEY FIELDS
 STAN MOSLEY
 GAVIN CHRISTOPHER
 CEDRIC FORD
 MICHAEL BAKER
 DAN CIPRIANO
 JUNIOR WATSON
 ERIC GUITAR DAVIS
 BASHIRI JOHNSON
 RUDY ROTTA
 CHRISTAL AYKIN GOSPEL CHOIR
 TIM PETERSON SINGERS Gospel Choir
 PAOLO BELLI
 And so many others legendary Artists of Blues & Soul in the World ! ………